advertisement
Premium sports headphones



Whether in the water or on land, these are the best headphones for sports
Whether it's running in nature, doing water sports, on the go by bike or in the gym after work – everything is easier with good music. Anyone who does not yet rely on bone conduction during sports can look forward to a top sound experience during training with the Shokz sports headphones
Who does not know it? The right music on our ears can drive us to peak performance – it is the perfect motivation booster. Unfortunately, we are increasingly hiding our environment with classic in-ear or on-ear headphones. Cut off from the outside world, we often miss out on important impulses, especially in public.
Shokz offers with its innovative sports headphones for swimming, running or cycling and their patented Bone Conduction Technology a solution that keeps your ears free and allows sports enthusiasts to start training with the right beats at the same time.
How it works? Conventional headphones transmit acoustic vibrations through the air. Shokz, on the other hand, relies on the patented Bone Conduction Technology. The vibrations from sound transducers are transmitted directly to the inner ear via the cheekbones and bypass the eardrum. The advantages? Greater comfort through open-ear design, a reliable and safe awareness of your surroundings and your ears stay dry and clean. With more than 1800 patents, Shokz holds the most for bone conduction technology in the world.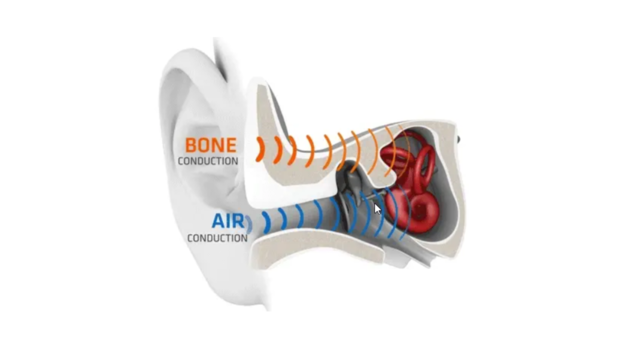 Shokz
Shokz redefines what top and amateur athletes can expect from good headphones. The open-ear headphone series with the Bluetooth headphones OpenRun, OpenRunPro and the OpenMove, as well as the MP3 headphones OpenSwim are robustly manufactured and tailored to the needs of sports enthusiasts. Each Shokz model is available in different colors and in two different sizes: mini and standard.
Editorial tip: With the OpenMove Shokz offers an affordable entry-level model that gives everyone the opportunity to see the concept of bone conduction headphones for themselves.
Headphones for safe music enjoyment while running or cycling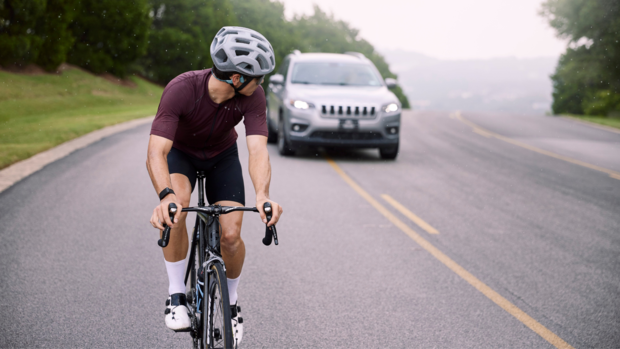 Shokz
Whether on a bike or on foot: Conventional in-ear headphones or even headphones with active noise canceling can quickly pose a risk. Deeply immersed in the training and shielded from the noise of the outside world, you quickly miss important impulses: be it a honking car that wants to warn you, another person on the bike who has been waiting behind us for the opportunity to come by for some time or other dangers. Keeping your ears open for traffic is therefore vital.
The professional sports headphones OpenRun Pro is the new flagship model and offers excellent fit, uncompromising safety and excellent sound quality with the latest generation of patented Bone Conduction technology. With TurboPitch™, the owners of the new Shokz OpenRun Pro can now enjoy even more powerful bass, accentuated mids and particularly clear highs with optimized vibration behavior at the same time. Whether it's music or a podcast, they are the perfect music companions for running or cycling without completely shielding yourself.
Now new OpenRun Pro
The manufacturer has also arrived in top-class German sport with its innovative Bone Conduction headphones: Shokz is becoming an official partner of the German Athletics Association. The exclusive partnership with the German Athletics Association (DLV) underlines the outstanding practicality of Shokz products and helps top athletes to achieve even better training success with sonorous background music.
The best waterproof headphones for swimming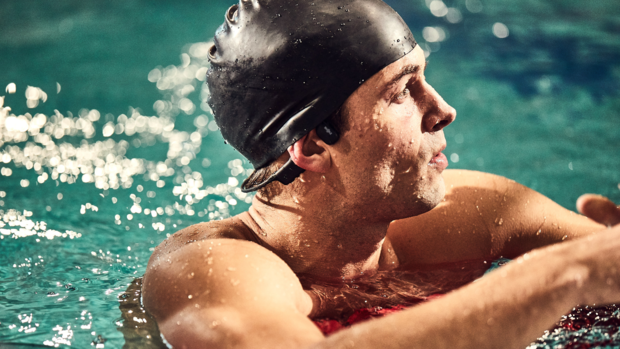 Shokz
What has long been normal when jogging or in the gym, he brings OpenSwim now in the water. Thanks to the titanium bracket and ergonomic shape, the headphones sit firmly and comfortably – without slipping. With its IP68-certified design, the OpenSwim can dive up to two meters deep and is completely waterproof, making it the ideal training partner on land and in the water.
Because radio technologies like Bluetooth® quickly reach their limits in the water, Shokz relies on an integrated MP3 player to avoid annoying stuttering or skipping of the music. The OpenSwim offers storage space for up to 1,200 songs and up to eight hours of battery life, so more than enough endurance for even the biggest fans of water sports.
Here's the OpenSwim
Even under water, the MP3 headphones leave your ears free for important things: Whether it's the lifeguards, your own children or other guests – without bothersome plugs you always have two open ears for your surroundings and continue to participate in what's happening.
experience music in a new way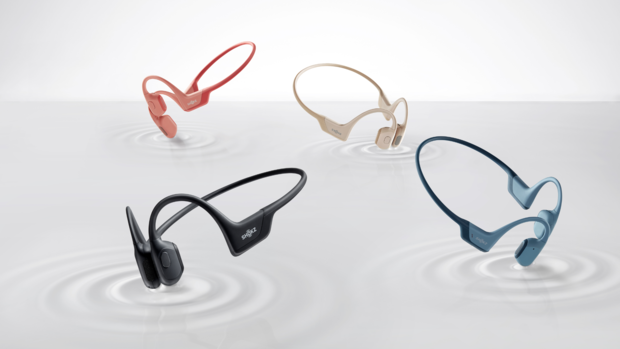 Shokz
With more than 10 years of experience, Shokz has already served more than 7 million customers and is therefore anything but a case for early adopters. Since it was founded in 2011, Shokz (formerly AfterShokz) has had a vision: The company wants to change and improve the way we hear with its unique bone conduction technology. The award-winning Shokz headphones offer premium stereo sound thanks to a range of patented audio technologies and their open design and promise the highest level of safety and comfort.
In summary, Shokz is the optimal choice if you are looking for a sports bone conduction headphone that you can wear both in everyday life and during sports. Shokz headphones and headsets are available from selected specialist retailers, online retailers and in the Webshop available.
Find the right model for you in the shokz.com shop
#Bone #Conduction #Headphones #Shokz #MENS #HEALTH