There are around 24,000 midwives throughout Germany, only around 60 of whom are men. One of them is Kilian Lanig from Bochum, who is still relatively new to this job and has looked after 50 births so far. In an interview with Men's Health Dad, he revealed why he chose this profession, how important he considers the role of the father-to-be in the delivery room and what men can do best during childbirth.
Why did you study to be a midwife?
"As part of my training as a nurse, I also worked on the children's and maternity ward. I really enjoyed that. But unfortunately I was only allowed to look after the families two or three days after the birth and not during the days before – and aftercare or during the birth. I then completed various further training courses in the area of ​​breastfeeding advice and baby handling and finally started training as a midwife in 2021. I have now looked after more than fifty births as a midwife. The most important thing about my job are for I personally definitely want empathy and expertise. As a midwife, I want to respond individually to the woman I look after. During my training, I was also well prepared in this regard. However, everyday life in the delivery room is then often characterized by a lack of time and staff. That can be compensated for by good teamwork, but of course not completely compensated.If three women are under the birth ung in the delivery room and only two midwives – then there are just two midwives. As a result, I may not be able to give the individual woman the care that I would like to give her. Unfortunately, this situation is part of my everyday professional life."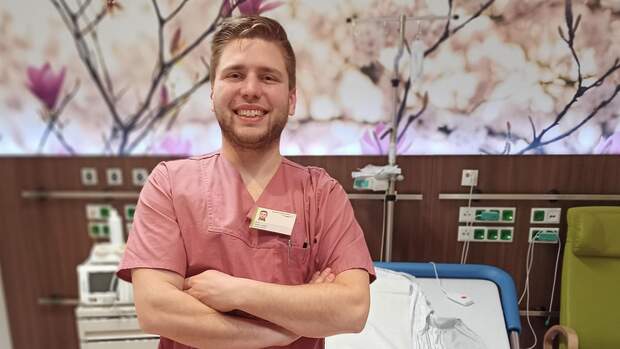 What do you particularly like about your work?
"For me, pregnancy, childbirth and postpartum are simply an incredibly beautiful and also very formative phase of life. And as a midwife, I play an important role for the family. If the birth goes well and I've done a great job as a midwife, the birth is for me "For the mother and father, despite the stress and labor pains, it's usually a nice and really formative event. Of course, this also applies to the child I helped to bring into the world. I think that's a wonderful thing about my job. Incidentally, I don't have any children yet , but I would definitely like to have some, preferably four!"
What are your top three tips for fathers-to-be?
"Firstly, dare to be close to your wife during the birth. Your wife needs your support during the birth. Pay attention to what is good for her. Be it that you create a gentle counter pressure against her lower back with the palm of your hand or she just hold your hand. Ask what she needs – you are important to her and you can always support her!
Second, let your wife breathe labour. Your wife performs at its best during childbirth. If a contraction starts in the middle of a sentence, give her time to breathe and pay attention to her body language. Stop the conversation and see what helps her in labor. After the contraction, you can continue the conversation.
Third: It is your birth! Even if the delivery room is an unfamiliar environment: It's the birth of your child! Make it what is best for your wife. Does music help your wife to relax? Then turn her on! Is there a birthing pool and could it be good for your wife? Then ask for it! The midwife also wants the birth to be a pleasant experience for you. Therefore, she will implement your wishes if possible."
Have you ever experienced difficult situations?
"Psychosocial care is definitely a very important part of midwifery work. Of course, it is difficult when a pregnancy cannot be carried to term, so it is clear that the child has already died in the womb or will not be viable at birth. The women give birth, if the pregnancy is already further advanced, your child in the delivery room too. This is definitely a formative event and we midwives can be an important support for the mother and father. Even if children with serious illnesses or genetic defects appear come into the world that were either not known before or are only really realized by the parents after the birth, I am important as a midwife. And be it that I can encourage the parents to accept their child as it is. I have for example, experienced the birth of a child with trisomy 21. The parents initially had real reservations and were reserved and insecure i m dealing with her child. Because I, as a midwife, approached the family and the child with a positive attitude, I was able to help shape the initial bond between parents and child and thus ultimately its future. In this specific situation, the parents burst into tears when they were released from the postpartum ward and said they couldn't thank us enough for treating them so positively. That took away their worst fears about their child."
What reaction do you get when you introduce yourself to expectant parents as their midwife in the delivery room?
"The reactions to me as a man and as a midwife are mixed. While many people don't react any differently to me than to my female colleagues, some parents meet me with skepticism or women actually don't want me to accompany them during the birth. Even there Within the team, we naturally try to fulfill the woman's wishes and, if necessary, to switch caregivers. Men in particular are often very grateful that I, as a man, am there with them in this exceptional situation. Especially fathers who are experiencing their first birth, My presence as a man who knows what happens during childbirth gives security. I also experience that when I tell them as a man what they can do at the moment, men sometimes react more directly than with my colleagues."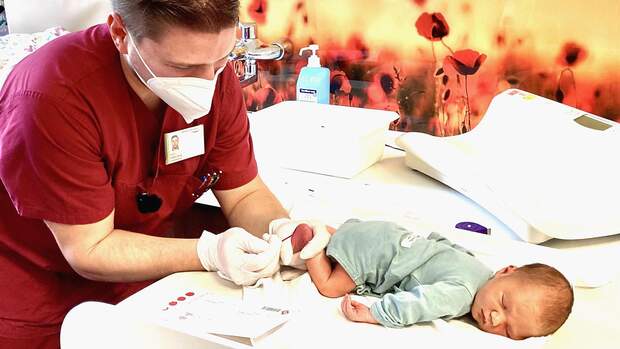 Are there or were there reservations on the part of your colleagues?
"I think the profession of midwife has to get used to the fact that men also work as midwives. As a male midwife, you sometimes have to prove yourself a little more and earn the respect of your colleagues, so to speak. But if you could show that If you empathize with the women giving birth and do your job professionally, reservations usually disappear quickly."
How do you experience most fathers in the delivery room: are they rather passive or do they dare to actively support their partners?
"I actually experience both. Some fathers stand by the delivery room bed and have to make sure that they don't tip over themselves – especially if it's the first birth and they haven't seen that much blood yet. But there are also a lot of fathers who play a supporting role during childbirth, i.e. actively supporting the woman. Fathers are sometimes a bit overwhelmed, especially during the first childbirth, because they simply have not seen their wife in a situation like childbirth. Sometimes fathers do not know exactly what to do. "The woman is in pain and they can't do anything about it and they don't really know what's going on. Some people are really overwhelmed by this. Others, especially if they already have several children, already know exactly how they feel about the birth of theirs As a midwife, I hardly have to intervene because the woman and the man support each other wonderfully."
What are you doing as a midwife to involve fathers in childbirth?
"Fathers who are very insecure and don't even know what to do, I usually give short, clear instructions on what could help the woman. It's often helpful if you put your hand on your partner's shoulder or in the lower back, on the rump, with the hand under the contraction to create counter pressure. For the most part, fathers do well if they can be active during the birth. I also encourage fathers who are just waiting in the corner to take it easy to get closer to her partner and to move freely in the delivery room. As a midwife, it is important to me to make the birth a pleasant experience for the father-to-be. In my opinion, fathers and mothers are equally important for a positive birth. The Of course, the woman takes on the main work of giving birth, but the father is also important for the birth.Unfortunately, men are still often told: You have nothing to do with it, you have no pain, no breastfeeding problems and a Also no physical regression in childbed. Personally, I think that's a pity, because of course the woman also has a certain advantage in terms of experience. Only she knows what it's like when a child grows inside her. And birth, painful as it is, is an experience that ultimately helps to build the bond. That's why bonding, i.e. skin contact right after birth, is very important for the father in particular. I always invite fathers so that they get to know their newborn child and grow into their role as father from the very beginning. Even after the birth, I think it's important that the fathers are involved in everything, changing their baby's diaper or supporting their partner with breastfeeding. Unfortunately, some hospitals strictly prohibited fathers from being present at the birth or during the check-ups during the peak phase of Corona. I think that's ethically questionable."
Is there a situation in which you remember the relationship between expectant mother and expectant father as particularly beautiful during the birth?
"Yes, I remember a third woman who came to the hospital when the birth was quite advanced. The man came in time for the birth. The two were such a well-rehearsed team that as a midwife I didn't really have to give any instructions. We have Of course they looked after the child and helped with the labor pains, but the two of them did most of the work on their own. They gave each other such security, it was really nice to see it happen!"
What was the craziest question a father asked you during a birth?
"The craziest thing I can remember is the question from a man whose wife was about to give birth and who asked: Should I stay here now or wait outside? I thought: Of course you should stay there! There are actually Fathers, albeit few, don't want to be present at the birth and sometimes the wife doesn't want the father to be there either, in which case the father-to-be wanted to be there but had no idea what was happening and what to do next."
Conclusion: Fathers are more than just extras in the delivery room
Midwife Kilian Lanig on the insecure father he describes above: "He probably just thought: Okay, now I've taken the woman to the hospital, she's being well cared for – and what do I do now?" We really hope that after reading this interview you will no longer ask this question in the delivery room.
These links lead to providers from whom MEN'S HEALTH can receive a commission (so-called "affiliate links"). Further information here.
#Fathers #childbirth #tips #child