The good, old hula hoop – most of you should still know it from the schoolyard, or as a dusty utensil in the basement. But the colorful rings are no longer just old-fashioned children's toys, because they have become a real fitness trend and are (again) conquering the whole world. Why? Because hip rotation creates a tight core and slim waist, because hulling, as the saying goes, requires minimal equipment, and because it's just plain fun.
The hula movements not only look great, they also effectively train your core. We have with influencer and hula hoop fan Charlotte Wise talked about how good hula hoop is for the body and mind.
What is hula hooping?
Hula Hoop is familiar to many from childhood days: a plastic or wooden hoop is circled around your own body and should keep moving for as long as possible. This usually happens with a smooth swing of the hips, but it is also possible with a leg or arm and, for experienced people, even on the neck.
Where does hula hoop come from?
Modern tire fun was invented in America at the end of the 1950s. That's where California toymaker Wham-O Corp launched the first plastic tire after hearing that kids in Australia were using a wooden ring to practice in physical education classes. The company chose the name "Hula" for the Hawaiian dance, which the technique is somewhat reminiscent of, and "Hoop", the English term for hoop.
After just 4 months, the toy company had sold an unbelievable 25 million pieces, because children all over the world were immediately enthusiastic about the Hula Hoop. At the latest during the Corona pandemic, many adults also recognized the colorful tire, which is now available in a wide variety of designs, as a great fitness tool for the home.
Which hula hoops are good?
What used to be fun in the children's room or garden is now considered a real workout trend. Celebrities like Michelle Obama, Beyoncé and Angelina Kirsch also love hula hoops. It doesn't really matter which "device" you use, there is a large selection.
Don't have a hula hoop yet? They are now available for every fitness level and for every preference:
How can I learn to hula hoop?
Just get started and train, practice makes perfect! Charlotte Weise wasn't a professional right from the start either: "I learned hula hoop at school, as well as juggling. And then I just kind of kept it and integrated it into my daily routine."
With success: Because her followers love to dance with the hoop. "I quickly became known for my hula hooping videos and my social media viewers started hula hooping too."
Is there a hula hoop workout?
Yes, it will, if you spend enough time with it. Hula hooping is not only great fun, but also gets your body in great shape. Because: If you take 20 to 30 minutes and let the tire circle around your hips again and again, you will soon realize that it is quite exhausting.
The cardiovascular system really gets going and the whole body is flooded with endorphins. Charlotte Weise: "I love to turn on music and then just start circling with the hoop. It's so liberating and really clears my head again. The feelings of happiness are priceless!"
There are no limits to your imagination, try out new moves, rock back and forth, try it with one leg.
What is trained with the Hula Hoop?
Next to the in studies proven positive effect on the cardiovascular system (yes, hula hoop is a real endurance workout!), the hoop has great effects on your entire body with regular training: According to a scientific study Stomach, waist, legs and buttocks become firmer. One further studye also confirmed that Hula Hoop is also going to Decrease suitable, especially to get rid of annoying belly fat. Attention: As always when losing weight, the calorie balance must be right. Want to find out how many calories you should be consuming every day? This can be done in just a few clicks with our calorie calculator.
Incidentally, midwives also recommend hulling for mothers to strengthen the pelvic floor after childbirth. All of the core muscles are under tension here to keep the hoop up! In addition, the blood circulation in the skin is stimulated and you train your posture and posture coordination. Because you have to concentrate so much on keeping the tire in the air, you can switch off perfectly and of course fill up with a lot of good mood.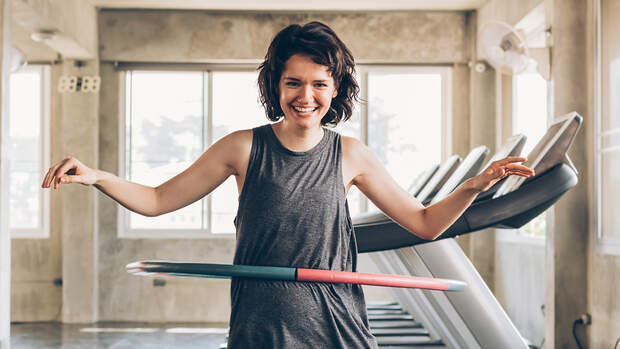 It gets even better: It's worth persevering, because you can burn up to 900 calories in one hour of hula hooping. Crazy, right?
Which hula hoop do I need as a beginner?
Not all tires are the same: Hula hoops vary in diameter, thickness, weight, material and add-ons, such as waves or massage nubs. Some fold up for easy storage, some don't. For example, there are very easy thin tires made of plastic. These are more suitable for experienced Hula Hoop fans.
In fact, it's not true that light tires are easier to keep up. It's exactly the opposite: the lighter the tire, the harder it is to hull. More weight makes the hoop slower when swinging in the air, giving beginners a little more practice time.
So if you don't want to start with a very light tire right away, you'd better use one of the something thicker models, also made of plastic are: They are ideal for getting started, as they hold well on the hips thanks to their weight and are great for grooving in.
As a beginner, it is best to start with a tire weight of 1 to 1.2 kilograms. People with a body weight of more than 80 kilograms exercise better with slightly heavier tires of 1.5 to 1.8 kilograms. The optimal diameter depends on your height: if the hoop is on the ground and reaches your navel, it fits perfectly. Here, too, there is a rule of thumb: the larger the tire, the easier it is to hold it up.
Which hula hoops are suitable for advanced users?
Anyone who is already good at training can, like Charlotte, use very thin and light tires or models with that certain extra. For example, there are tires with built-in weights or Massage nubs. This makes the workout effect with the hula hoop even greater!
Charlotte Weise recommends: "But at the beginning you should rather do without the weights, because it's quite difficult. Some followers have sent me photos of bruises they had from the tires with weights. Here you should look up in any case approach slowly!"
What should beginners consider when hula hooping?
For your first Hula Hoop attempts you should know that the hoop adheres better to bare skin. If you're wearing a shirt, choose one that fits snugly.
When it comes to technique, you shouldn't mimic the movements of the hoops, just move your hips back and forth instead of making sweeping circles. If you don't want to do this right away in a hip-width stance, you can do a very easy one lunge walk by putting one foot in front of the other.
Even if one direction works better intuitively than the other, you should switch them up regularly so that your training doesn't become one-sided and the entire core benefits.
Most importantly, be patient and don't overwhelm yourself. Five minutes of hulling is enough to start with, add a little exercise time every day.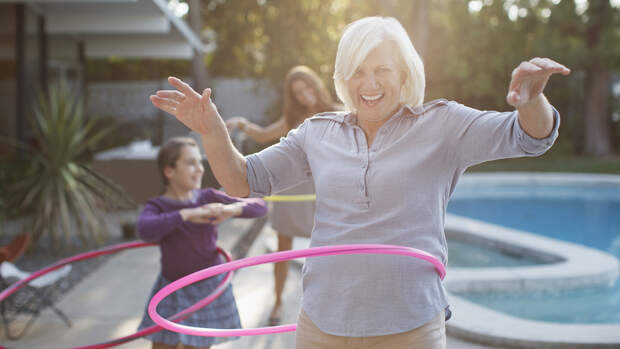 Charlotte's tip for beginners: "It's best to look at YouTube tutorials or Instagram videos of experienced hula hoop girls. You can learn a lot of tricks there." Among the most well-known female YouTubers Deanne Love or Ellie Hoop. The most important hashtags on Insta are #hulahoop #hoopdance #hooping #hoopersofinstagram and #hooper.
Workouts can be a tiring task – or just a little bit of fun. Hula Hoop brings back childhood memories, makes fit and a toned core. Grab a hoop and give it a try! Alternatively, you can also get fit by jumping: Get our jump rope workout plan.
your training plan
training schedule
Get fit faster with jumping rope in 8 weeks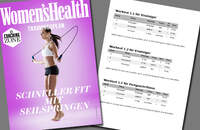 training schedule
Only skipping rope needed
8 exercises in picture and video
Including technical tips
15-page PDF, accessible on all devices
all plans
Already a customer? Then log in here a.
After successful payment you will receive an email with a download link. If you have any questions, send a message to fitness-shop@motorpresse.de.

#Hula #Hoop #fun #slim #waist