According to a new study, men can reduce their risk of developing colon cancer by 22 percent – ​​if they eat right. What you should definitely eat (and what not)
The risk of developing colorectal cancer is many times higher for men than for women. According to Statistics from the Robert Koch Institute Colorectal cancer is the 3rd most common cancer. However, a new study shows that there is something you can do to effectively reduce this risk. How? Quite simply: through the right diet.
Study: Prevent colon cancer with a plant-based diet
It has long been known that too much fat Red meat, too little fiber from fruits and vegetables can promote colon cancer. Along with smoking, an unhealthy diet is one of the most important risk factors for cancer. But that can be done with diet change to change. A plant-based diet with lots of vegetables, whole grain products and legumes is said to reduce the risk of disease. How big this connection really is was examined at the end of 2022 Study by Kyung Hee University in South Korea.
This is how the study went
The study not only looked at men, but also looked at ethical differences in relation to cancer. To this end, 79,952 men and 93,475 women took part in the study, which recorded diets and occurrence of colon cancer over a period of 19 years. In order to establish a connection, the incidence of colorectal cancer cases was compared with different diets. The plant-based diet was divided into three subcategories: general, healthy and unhealthy.
The basis for the survey of diet was the subdivision into a healthy and unhealthy plant-based diet. Because just because you do without animal products does not mean that you suddenly eat healthily. To differentiate, the researchers divided plant-based foods into categories based on the nutrients they contained.
To a unhealthy plant-based diet included products made from white flour, refined sugar and all foods in which this was added, fruit juices, but also potatoes.
When healthy plant-based diet Whole grain products, fruit, vegetables, nuts and high-quality oils as well as coffee and tea were defined.
Results: Men can reduce their risk of colon cancer by 22 percent
While no connection could be established between diet and the occurrence of colorectal cancer in women, the situation was different in men. Diet seems to be an important influencing factor here – also because the risk of developing colon cancer is significantly higher in men than in women. According to the study, include whole grains, lots of vegetables, fruit, and nuts high-fiber foods on the plate. Meat and sausage products do not. Men who ate the same diet and thus followed a healthy, plant-based diet had a 22 percent lower risk of developing colon cancer.
When the food was analyzed more closely, whole grain products and vegetables in particular were associated with a lower risk of colorectal cancer, while a high consumption of refined sugar led to a higher risk. The diet should not only be plant-based, but healthy. Means more precisely: whole grain instead of white flour, less sugar and sugary foods and enough vegetables.
You finally want to eat healthier, but don't know exactly how? With our men's health nutrition coaching, you can have an individual nutrition plan created for you. Simply enter your destination, your preferences, allergies & Co. (we even take your cooking skills and shopping habits into account) and get your clean eating plan on your phone or as a PDF.
Promotion: Save 23 percent now with the code* "mein2023"!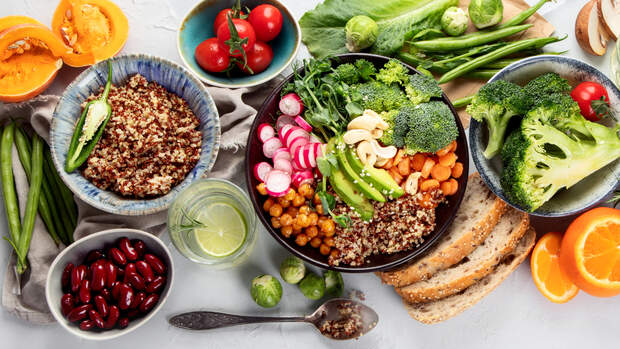 It's no secret that fruits, vegetables, whole grains and high-quality fats are healthy. It's not just the vitamins that count, but above all the dietary fibers and antioxidants such as polyphenols and carotenoids. At least that's what Jihye Kim, one of the authors of the study, suspects. These food components are said to have a number of health-promoting effects that have a positive effect on intestinal health and can thus reduce the risk of developing intestinal cancer:
They have antioxidant and anti-inflammatory effects.
They can suppress chronic inflammation that can cause colon cancer.
They have a positive effect on the intestinal microbiome and thus strengthen the immune system.
Can you study trust?
There is a big plus for the duration of the study. At over 19 years old, it covers an extremely long period. The high number of study participants is also remarkable and therefore very meaningful.
The biggest shortcoming of the study is that the effect of animal foods was not taken into account or differentiated. It could well be that certain dairy products, special types of meat or fish also have a positive effect on the risk of colon cancer. However, this was not collected.
Conclusion: This is how you can prevent colon cancer
Nutrition can change a lot – and not just when it comes to your athletic goals. When it comes to health and cancer prevention, it can become a decisive factor. A plant-based diet with enough vegetables, whole grain products, fruit and healthy sources of fat is always a good choice. Even if you don't want to give up meat or fish completely, this is a perfect base to support your health and well-being. Why don't you try "flexitarian" (a neologism of "flexible" and "vegetarian") and reduce your meat consumption by introducing more and more veggie days a week.
And we support you if you want to change your diet – with our tailor-made nutrition plans.
* Code valid until 03/23/2023
#Men #prevent #colon #cancer #diet