What do almost all "wrong" blondes fear? That's right, a yellow tinge in your hair. But that can happen quickly. Your:e hairdresser:in then balances unwanted gold tones with a violet tint after bleaching. "The key word is complementary color. Violet is opposite yellow on the color wheel. The colors cancel each other out," explains hairdresser and blonde expert Merret Pass from Hamburg.
The crux of the matter: If the tint washes out over time, unfortunately the yellow gradually comes back. And now? What helps then is a good silver shampoo. Here we reveal how you can use it to freshen up your blonde at home and which 4 silver shampoos are best.
Why is there a yellow tint when bleaching?
The yellow tinge often occurs when dark hair lightens. Because bleaching does not color, but decolorizes, i.e. it removes color pigments from the hair, bleaches them. Your hair gradually becomes light blonde over different color levels (dark, red, orange and yellow).
But the more red pigments your hair contains, the more likely it is to have a yellowish tinge. If the bleaching effect is too short or if the hair is very dark (dyed) beforehand, a warm sting will remain in the hair.
What exactly is a silver shampoo?
"A silver shampoo is a shampoo that contains purple or bluish pigments to neutralize an unwanted golden hue in the hair. Since purple is the complementary color of yellow and blue on the color wheel, the opposite of orange, warm tones can be optically balanced in this way," explains Merret Pass.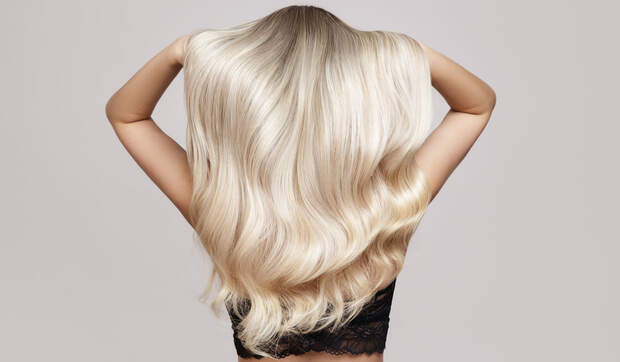 "Important to know: A silver shampoo does not lighten the hair, it only makes it appear more ashy – which can make the strands appear a little lighter."
Who Should Use a Silver Shampoo?
The hairstylist recommends: "Anyone who wants their hair to be cooler and who is rather lighter or blonde as a base."
According to Merret, silver shampoo is also good for anyone who wants to wear their already cool blonde even more silvery or gray in a granny look.
What are the best anti-yellow shampoos?
We tested ourselves across the range. We present the shampoos that convinced us here. So that you know exactly what you can spend your money on with a clear conscience.
1. 'Fabuloso Platinum Blonde Toning Shampoo' by Evo
Our expert's favorite product. "Personally, my favorite is the Evo Fabuloso Platinum Blonde Toning Shampoo. It smells very, very pleasant, has high-quality ingredients and the color effect is great." Depending on how strong your yellow tinge is and how cool your desired color is, the manufacturer recommends leaving the shampoo on the hair for between 1 and 3 minutes. This way you can perfectly control how intense the silver effect is. Because it provides a lot of moisture, the hair feels nice and soft afterwards.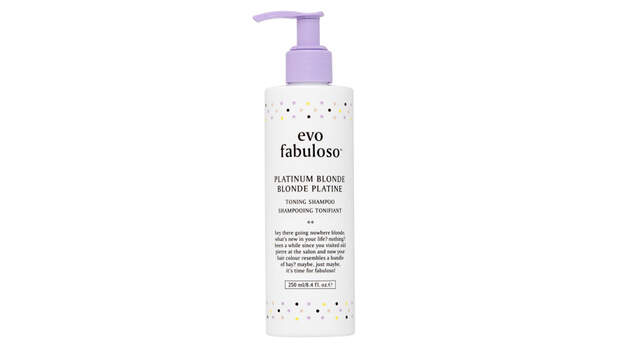 Conclusion: leaves hair feeling great even on extremely stressed strands and completely eliminates the yellow tinge.
here to order: Fabuloso Platinum Blonde Toning Shampoo by Evo
2. 'No Orange Shampoo' by Fanola
This silver shampoo is particularly popular on Instagram. Many hairdressers love it because it is so heavily pigmented in blue that it can even neutralize stubborn orange tinges. That's exactly why you should be careful: If your hair is only slightly yellowish, you shouldn't leave it on for too long, unless you want the granny look, because the hair quickly takes on a gray cast – especially if it's already heavily stressed.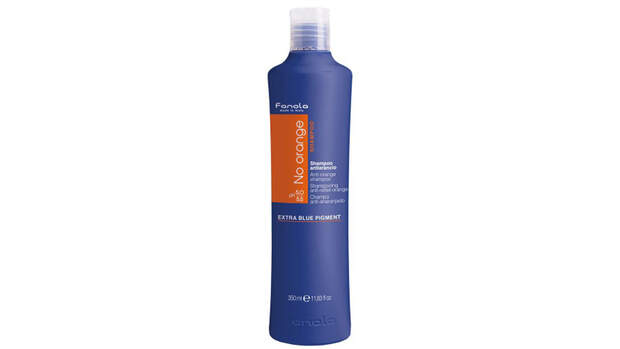 Conclusion: The "No Orange" shampoo is ideal for strong copper engravings. However, because it sounds really intense even after a very short exposure time, it should be used with caution.
Order here: 'No Orange Shampoo' by Fanola
3. 'Elvital Purple Shampoo & Mask' by L'Oréal Paris
The shampoo is dark purple, so highly pigmented. But don't worry, even on very light hair and after several minutes of exposure, it doesn't leave a gray cast, but rather a pearly shimmer. The associated conditioner has a lilac tone, ensures great combability and a healthy shine.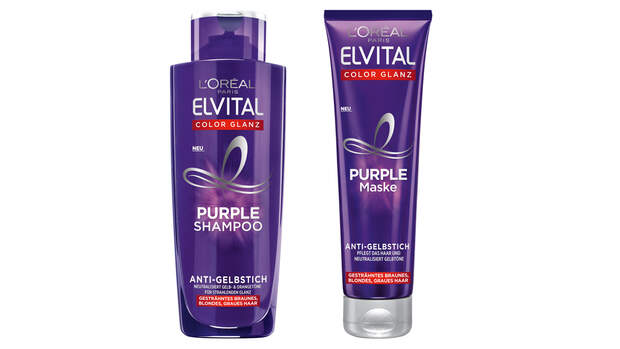 Conclusion: A cheap care series that works well if you already have the cool blonde you want and want to keep it as long as possible.
Order here: Buy 'Elvital Purple Shampoo + Mask' from L'Oréal Paris
4. 'Blonde Angel Treatment' by Kevin Murphy
In addition to silver shampoo, there are also color masks. Merret Pass recommends Kevin Murphy's Blonde.Angel Treatment. "It makes a very nice natural blonde tone without turning too gray and is very rich in care," says Merret Pass. We have tried it and can confirm that. Editor's Bonus Tip: Repurpose the product as a leave-in. Apply a pea-sized blob to towel-dried hair after washing and do not rinse out. The silver effect is even stronger. Here you get the silver care.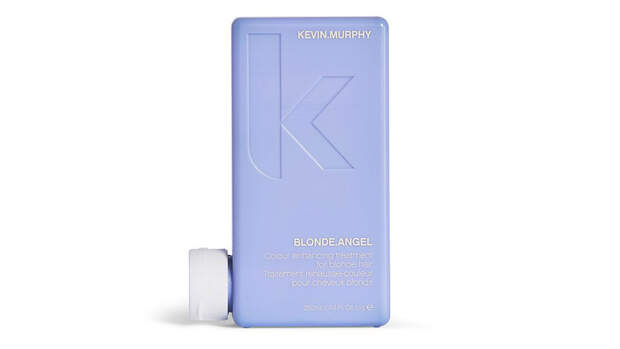 Conclusion: The ideal choice for anyone with dry hair who wants their blonde to be cool but not gray.
Order here: Buy 'Blonde Angel Treatment' by Kevin Murphy
Does silver shampoo work on dark hair too?
Rather not. "With dark hair, silver shampoo has no or only a very slight effect and usually only if you use it very often. In other words, the lighter the hair, the more visible the effect," says the expert.
How long does the effect of silver shampoos last?
That varies from person to person. "If the hair is very porous due to heavy or frequent bleaching, it can happen that the pigments are absorbed particularly quickly, but also fall out again quickly," says Merret Pass. Conversely, this means: the healthier the hair, the longer the effect lasts.
How often should you use a silver shampoo?
"Whenever you have the feeling that the hair color is too warm. As I said, some last longer than others. It is therefore individual how often you should use it," says Blond-Profi Pass.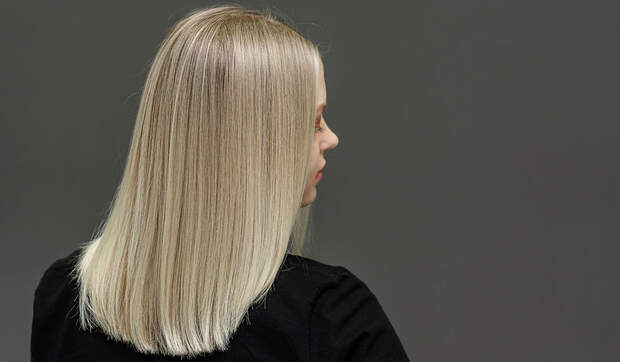 But no matter how strong your yellow tinge is, you should never use silver shampoo with every wash. "Bleached hair needs a lot of moisture. It is therefore advisable to use a moisturizing shampoo at least every second wash." You can find great tips for dry hair here.
Do silver shampoos dry out your hair?
"A silver shampoo roughens the hair a lot and dries it out. So that the pigments can grip well in the hair, there is almost nothing contained there. So always use a conditioner after use or a color mask that also contains violet pigments but can also care for the hair."
How long does silver shampoo have to act?
Depending on the desired effect for 1-5 minutes. "If you extend the exposure time, the hair can get a gray or even purple tinge," says hairdresser Merret Pass.
If that's exactly what you want, you can of course cover it up. If it happens by mistake, the sting won't last forever. "If you stop using it, the original hair color comes back. The effect of a silver shampoo is not permanent."
Yellow hair is not always a case for the hairdresser. With our tips you can refresh your hair color with silver shampoo and give your mane a cool shimmer.
#Silver #shampoo #test