The pinnacle of men's fashion is currently reinventing itself. She is getting braver. Everything about the current suit trends
Bright colors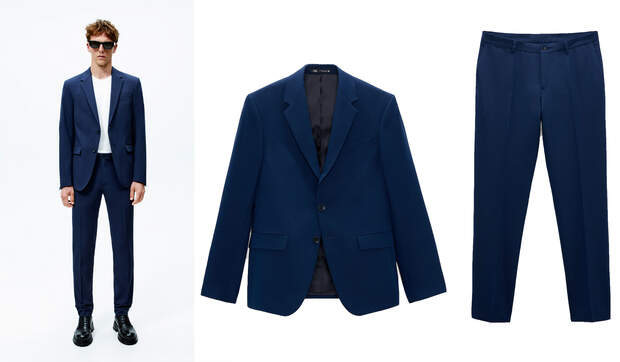 Order here: Buy a Zara jacket and Buy pants from Zara
One of the biggest suiting trends this year is bright, eye-catching colors. Admittedly, the trend is not for people who don't like color. Our color favorite this summer is the royal blue single-breasted slim fit from Zara. We only recommend this suit to a limited extent for everyday use in the office, but for a cool rooftop party or a relaxed summer wedding (but please pay attention to the dress code). In contrast to the formal, classic business suit, there is no obligation to wear a tie. A loose one shirta thin, fine-knit sweater or simply a well-fitting one t shirt is perfect. Since the suit itself is enough of a statement, you should only choose black or white. Everything else quickly looks overstyled or looks like a stage outfit.
New Classic Business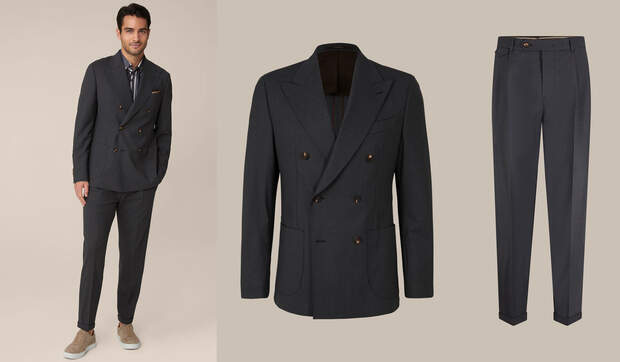 Order here: Buy a Windsor jacket and Shop Windsor Trousers
The classic office suit gets a very loose silhouette this season and is much more relaxed and casual than its narrow predecessors. The suit brand Windsor shows how men can wear suits in a chic and stylish way: the suit pants are straight and wide-cut, the double-breasted jacket has subtle 80s/90s elements, such as the wide, peaked lapels and an unlined, unwaisted silhouette. The rule that you can only wear chic lace-up shoes and a tie with a suit is long outdated. Puristic trainers and a fine-knit polo shirt add style and a sense of fashion to a summer suit.
Loose linen
Order here: Buy a Strellson suit
The coolest choice for summer is without a doubt a linen suit. Linen is very breathable, light and has a cooling effect. A sporty linen jacket exudes a relaxed, elegant St Tropez holiday feeling and is extremely versatile. But you should make sure that your new favorite piece is not made of 100% linen, but has a cotton content. Linen tends to crease quickly, which can be avoided by using a mix of fabrics. Tip: If you have a bit of courage, then combine your linen jacket with sporty jog pants and sneakers.
Sporty coolness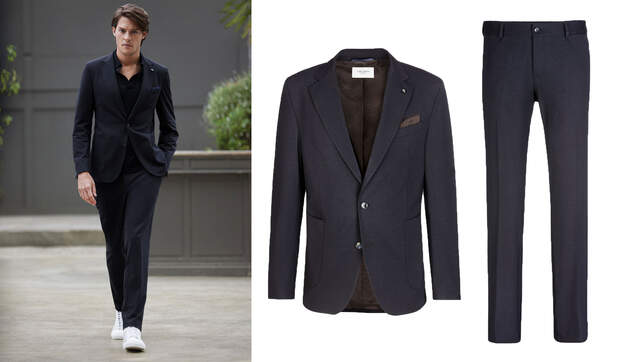 Order here: Buy a Carl Gross suit
The suit itself often has the reputation of being stuffy and very classic. However, labels such as Carl Gross prove that there is another way. The Franconian fashion house, which looks back on a long tradition in tailoring, uses this expertise to give the classic suit a futuristic design – with minimal effort. The narrow-cut suit is not made of cotton, as usual, but of an extremely flexible stretch material, which ensures that a relaxed fit is guaranteed all day long. This also makes this suit the first choice when it comes to travel suits for business trips, because the durable material is extremely crease-resistant. Conclusion: Not only practical and comfortable, but also looks extremely stylish.
Regardless of whether you wear a suit in your free time or at work, the new suit trends are extremely diverse and offer something for every taste. As dress codes are becoming more and more soft, you can approach the topic of suits in a more relaxed and experimental way. But never forget: The right fit is the be-all and end-all.
#suit #trends